FABRIKA F 12° lager
Pilsner type lager. Made of the best quality moravian barley and czech hops. This beer features a rich foam and is traditionally more bitter. This beer is brewed on site in FABRIKA the beer pub.

0,3l / 0,5l
Type: light draft beer type "lager" Alcohol: 4,6% vol. Plato: 12°

FABRIKA F 14° APA
This is an American Pale Ale is made of the best quality moravian barley and american hops. It has a rich foam and fruity but bitter aroma and taste. And it´s brewed on site in FABRIKA the beer pub.

0,3l / 0,5l
Type: American Pale Ale Alcohol: 5,6% vol. Plato: 14°

FABRIKA 12° Weizen
A very popular light wheat beer. It has a pleasant aroma, which is immediately
accompanied by the taste of citrus fruits, nutmeg, vanilla, banana, which ends in a slightly
sour refreshing taste of lemons. This beer that has to be bleary and sour. It has a very
subtle bitterness and a straw-yellow color. And it´s brewed on site in FABRIKA the beer
pub.

0,3l / 0,5l
Type: light yeast wheat beer Alcohol: 4.7% vol. Plato: 12°

FABRIKA 13° Dark lager
Our dark lager is distinct by its carefully balanced taste, which eventually leans towards dry notes of coffee and dark chocolate. Brewed exclusively from Moravian floor malts, and hopped by the subtle and unique hops of Saaz variety which lends it flavours characteristic to beers of Czech type.

0,3l / 0,5l
Type: Czech Dark Lager Alcohol: 5% vol. Plato: 13°
Amber Lager 14°P
This beer has a balanced profile with moderate bitterness and medium-high maltiness. Deeper colour is achieved by using Munich and Caramel malts, which also leads to fuller body and caramel notes in flavour. Those are balanced by higher additions of noble aromatic hops towards the end of the boil. Surprisingly refreshing beer.

0,3l / 0,5l
Type: light draft beer type "lager" Alcohol: 5,6% vol. Plato: 14°

Pilsner Urquell 12° z tanku
Pilsner Urquell is somewhat heavier (with an almost ale-like fruitiness) and more strongly hopped than most pilsner beers, which is considered by many to be its most distinguishing characteristic. Saaz hops (a noble hop variety) are a key element in its flavor profile, as are the use of soft water and heat-brewing. With tank technology, the beer Pilsner Urquell is not draught from the classic courts but of the larger, original stainless steel tanks with a capacity of 5 or 10 hl. Unpasteurized beer imported from the Pilsen brewery in thermally insulated tank is placed in an impermeable sterile container, which is inside the tank. This system is technically called "bag-in-box". The Golden drink is on tap by pushing air bag. The non-pasteurized and the remaining completely protected, so it is fresh and maintains its original characters.

0,3l / 0,5l
Type: light draft beer type "lager" Alcohol: 4,4% vol. Plato: 12°
Peter Chňupa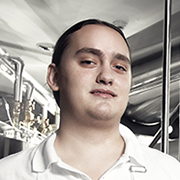 In spite of the fact that he is actually making his living by brewing the beer, he graduated from telecommunication at FEI STU. With home brewing of beer, so-called home-brewing, he started in December 2012. He was inspired by a wide variety of beer styles which in those times started to appear in Bratislava´s catering trades.

He acquired several successes with domestic beer. The first one was the first place in the category saison in Budapest in 2014, later for example first places for saison in Zagreb or two in 2015 for fruit beer and Belgian strong. Beer brewing in Fabrika is his first real beer-brewing engagement.
Michal Hatala
His background in the food production began already at high school – Secondary Vocational School – Food processing in Bratislava, with a specialisation for biochemistry. Shortly after graduation from this school – in 2003, he started to be in touch with beer brewing industry as he started to work in Stein brewing factory. This lasted till the closure of the factory in 2008. Then there was a break until 2013 when he started with home-brewing.

Even at home he is devoted mainly to lager beer with which he won prizes in competitions in home-brewing. Specifically, the third place in Martin in 2013, also third place in Rožňava in 2014 and the latest was gold medal in Zagreb in 2015.